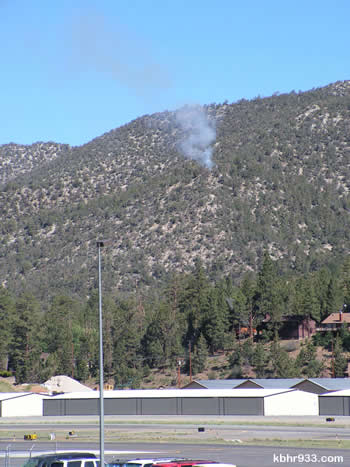 Big Bear City, CA/ San Bernardino National Forest — Just after 9am this morning (June 22), smoke and some flames were visible on the Big Bear Valley's North Shore, on the San Bernardino National Forest about half way up the hill from the Whispering Forest neighborhood in Big Bear City. KBHR first received a call at 9:11am, from a fisherman who could see the small fire from his boat on Big Bear Lake. Crews from the Big Bear City and Big Bear Lake Fire Departments responded immediately, though the brush engine from Big Bear Lake has since been released (prior to 9:30am). Crews from the U.S. Forest Service are responding and, per John Miller, "We have our full response going, though our crews are hiking into it.  We also have air attack en route to the area." We will bring you more information on this small fire as soon as it becomes available.
Update: By 9:40am, a helicopter from the U.S. Forest Service is on scene, and attacking the fire. Several water drops, using water from Big Bear Lake, took place prior to the 10am hour, and fire retardant was also dropped from a U.S.F.S. airplane. As of 10:20am, the smoke from the fire is diminishing.
Update: By 11:30am, the Forest Service had declared the fire contained. The cause of this small fire will be investigated but, in the meantime, the Big Bear Hot Shots crew (which had to hike to the area) will remain on scene today, to monitor the situation, as they had done on the small fire off Highway 38 on Friday.