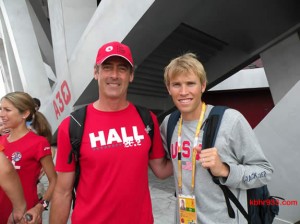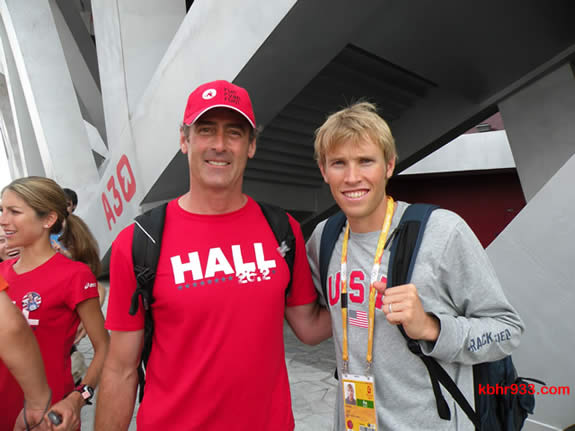 Rick  Herrick – (Richard Tieman Herrick, Jr.) was first elected to the Big Bear Lake City Council in November 2006, then re-elected in 2010 and, again in 2018 for his fourth term in office.  He serves as the City of Big Bear Lake Mayor and President of the Nay Foundation along with Past Chairman of the Big Bear Fire Department and the Big Bear Area Regional Wastewater District.
Rick was born in Denver, Colorado then lived in La Habra, California with his parents Dick and Regina Herrick along with his four sisters and one brother.  While in elementary school the family moved West Los Angeles where he attended Saint Martin of Tours then Saint Monica's High School.  Staying in the Los Angeles area during his college years, Rick graduated in 1979 from Loyola Marymount University with a Bachelor's Degree in International Business which included studies in Heidelberg Germany and Israel.
Rick and his wife Cathy have been a Big Bear Valley residents since 1995 when they built KBHR-FM 93.3, K-BEAR.  Big Bear News owned and operated by Rick and Cathy Herrick along with 102.5 FM.  Rick was honored with the 1999 National Association of Broadcasters Crystal Award for excellence as well as being honored at the Marconi Awards and Service to America Awards the following year.  His extensive radio career has included stents at KXLU, KLOS, KIKF, KABC and KBIG in Los Angeles.
In addition, Rick has served the Big Bear community as President of the Chamber of Commerce and Director for the Big Bear Valley Parks and Recreation District.  In 2000, he was appointed to the Department of Water & Power where he served as Chairman until his election to City Council in 2006.  Rick has two daughters Nicole, currently enrolled at UCSD Medical School and Elizabeth enrolled at California State University Chico.  Rick is an active member of the community having served as coach for the Snow Summit Junior Race Development Team and member of Rotary International.  He is a cyclist and private pilot and loves to race sports cars, ski race and scuba dive.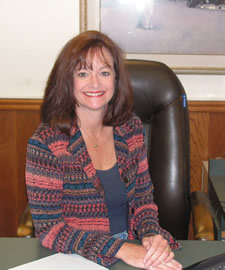 Cathy Herrick grew up in the town of Medford, located 4 miles north of Boston, MA.  After graduating from Tufts University in 1982 with a degree in Art History, she worked at the Boston Museum of Fine Arts. With family living in California since she was a young girl, she had visited the west coast many times over the years before moving to Los Angeles in 1986.  She got her start in advertising at keye/donna/pearlstein and J. Walter Thompson in the media buying departments.  For seven years prior to moving to Big Bear, Cathy worked at Focus Media in Studio City working her way up in the organization to LA Radio Buyer and Broadcast Buying Supervisor.
She met her husband, Rick, on a blind date in 1991 after her friends told Rick what an outdoorsy girl she was. At the time, Rick had already purchased a construction permit to build KBHR-FM, so a future in Big Bear was on the horizon. After marrying in 1994, Rick and Cathy moved to Big Bear in March of 1995 making this their new home. Their daughter, Elizabeth, was born in 1996.
Cathy began serving on the Board for the Bear Valley Unified School District in 2015 after years of being heavily involved in each of the parent support groups at Elizabeth's schools serving as Board President at both Big Bear Elementary and Big Bear Middle School.  She enjoys gourmet cooking and attempts to live up the expectations of being an outdoorsy girl with skiing, boating and camping
Cliff Fowler created "Fowlers Fish Tales" at the request of KBHR the first year on the air, and 15 years later still loves the "lingo" used to keep listeners informed and entertained.  Cliff Fowler was born in Glendale, Ca and went to R.D. White Elementary, Woodrow Wilson Junior High, and then graduated from Glendale High School.  He then attended Glendale Junior College for two years and transferred to California State University, Los Angeles where he completed his Bachelors Degree in Biology. The sciences, nature and the outdoors have always been his passion.
Cliff fell in love with Big Bear in 1965 when his parents built their first vacation home in Moonridge.  He started working at Big Bear Sporting Goods in 1971, managed it from 1976 to 1984, bought it in 1985 and sold the store in 2004.
After selling the valleys best-known fishing shop, he teamed up with John Cantrell, owner of Cantrell's Fishing Guide Service, which has been the longest running charter service since 1991.  John and Cliff have over 80 years combined fishing experience on Big Bear Lake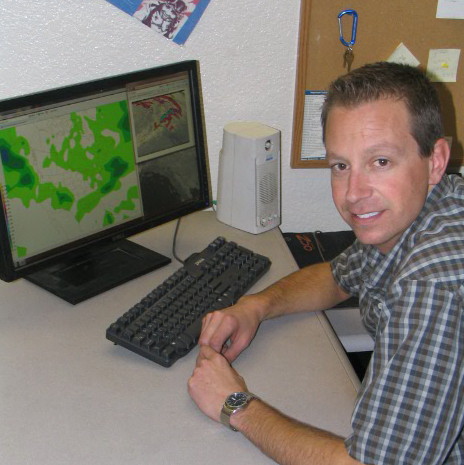 Ben Brissey is KBHR's exclusive meteorologist for the Big Bear Valley, specializing in mountain weather & micro climates. With over 20 years experience as a professional broadcast meteorologist, Ben has been with KBHR 93.3 for nearly 15 years. Ben continues to provide our listening audience with the most accurate weather forecasts specifically for the area.
Born and raised in Huntington Beach, California, Ben aspired to be a weatherman growing up; now a 25 year resident of the Big Bear Valley he provides his expertise with clear and concise weather forecasts to our listeners and online. As a meteorologist, Ben has studied at both Mississippi State & Penn State University and is also a proud member of the American Meteorological Society, National Weather Association and an ambassador for the National Weather Service/NOAA-Weather Ready Nation.
~ You can hear Ben's forecast a quarter past each hour 
Rick Bates has been the director of The Events Resource Office of Big Bear Valley since the fall of 2007. Along with his wife Nancy Meyer he is co-owner of Bates Meyer Inc. an artist management and music publishing firm that represents Jazz and Blues greats such as Otis Rush, Lurrie Bell and Ernie Watts as well as the publishing catalogs of classic artists such as Memphis Slim, T-Bone Walker and Lonnie Johnson. Bates and Meyer are also the principals of the Open Sky Music Foundation that produced Big Bear's Open Sky Music Festival.
Bates has worked in the field of music for over 30 years, with a majority of that time spent in Artist Management. He formed Rick Bates Management in 1993 and handled the careers of Blues greats John Lee Hooker, Ike Turner, and Joe Louis Walker. Prior to forming his own business, Bates was a principle in Linda Clark & Associates where he was a partner in the management of Los Lobos, Husker Du, Bob Mould and Violent Femmes. Before that Bates was previously a booking agent at The Rosebud Agency where he coordinated national tours for John Hiatt, the Neville Brothers, Willie Dixon, John Lee Hooker, Robert Cray and Mose Allison among others.