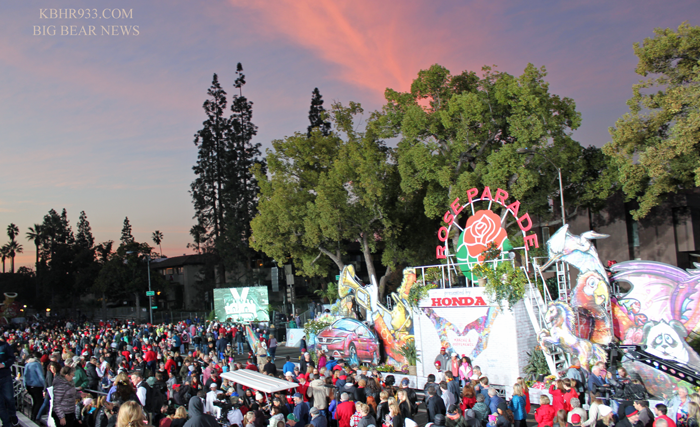 Big Bear Lake, California, March 21, 2018 – The Big Bear Rose Parade Association announces its acceptance for a float in the 2019 Pasadena Tournament of Roses (TOR) Parade. The Big Bear Rose Parade Association, a non profit pending volunteer organization, was formed in January 2017 to raise funds and community support for a float to depict the beauty of Big Bear Valley. The float will share the beauty of Big Bear with the millions of viewers around the world who enjoy the parade each year.
Gloria Meade, a Big Bear resident who is also a retired 12 year employee of the Tournament of Roses and, since retirement, a 28 year "white suiter" volunteer, serves as President and "Chief Inspiration Officer" for the group. Upon sharing the news of acceptance with the Board of Directors, Meade said, "I am thrilled beyond belief with this news. I have such tremendous love for my Big Bear family and my Tournament of Roses family and it has long been a dream of mine to see a Big Bear float in the parade. Our acceptance and the labor of love going into making this happen is a testament to positive thinking." The Big Bear proposal was one of only four new floats to be accepted in the 2019 event.
The group is now tasked with raising funds and creating a design for the float which will be built by a professional organization and decorated by local volunteers. While not yet determined, the design will reflect this year's Tournament of Roses parade theme, "The Melody of Life". Vice President and Fundraising Chair Liz Harris has created a plan to raise approximately $325,000 which will cover all costs involved. "While this is not a trivial amount of money, the exposure it will bring to Big Bear and the good will and involvement we will have with the community will be invaluable. We will all feel very proud when we see a beautiful float representing our beloved community in the 2019 Tournament of Roses parade", stated Harris.
The Big Bear Rose Parade Association welcomes everyone to get involved and take part. For information, visit their website at www.bigbearroseparadefloat.com or follow them on Facebook: To get involved, contact Gloria Meade at 909.816.7431.