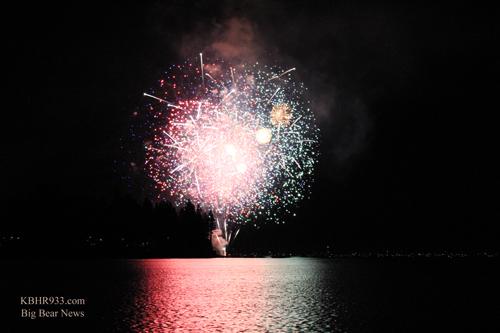 Big Bear Fire Department's Assistant Chief-Fire Marshal Mike Maltby stated, "The only fireworks allowed in Big Bear is the professional 4th of July Fireworks Spectacular over the lake. No personal fireworks are allowed. Fire officials will be issuing citations with fines up to $1,000 for fireworks violations."
The Rotary Club of Big Bear Lake provides locals and visitors with a world class fireworks display on the evening of July 4th, visible from many vantage points in the Big Bear Valley. Sit back and enjoy the show with synchronized music on KBHR 93.3 and 102.5. Big Bear Fire Department encourages the community to be safe and sane this holiday, and if someone sees a person using personal fireworks they are asked to please call 9-1-1 immediately.
In addition The San Bernardino National Forest has increased the seasonal fire restrictions.  These restrictions include.   
Building, maintaining, attending or using a fire, campfire or stove fire. (Persons with a valid California Campfire Permit are not exempt from the prohibitions listed above, however, persons with a valid California Campfire Permit may use a portable contained-gas or liquefied-petroleum stove or lantern with a fuel shut-off valve.)

Smoking is prohibited, except within an enclosed vehicle or building.

Welding, or operating acetylene or other torch with open flame is prohibited.