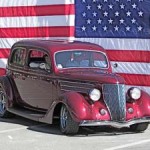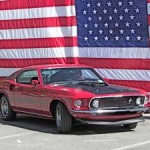 Big Bear Lake, CA, August 8, 2014 – Proud auto owners are checking in today for the Big Bear Lake Antique Car Club Fun Run, and tomorrow morning, they'll drive their pride-and-joys into the Bartlett Lot in the Village.
Judges will evaluate over 500 show cars from 10:00 a.m. to noon Saturday and announce the winners at 2:30. There's no admission fee for the public to view the classic cars and enjoy live music, raffles and refreshments. Be sure to stop by the KBHR booth for some giveaways.
Another way to appreciate the vehicles is to find a spot along the road to watch them go by during the annual "Cruise Around the Lake," which starts at 3:45 on Saturday. The cars will be headed in a clockwise direction from the Village, and some traffic control will be in effect.
The awards ceremony is scheduled from 9:00-10:00 a.m. Sunday.