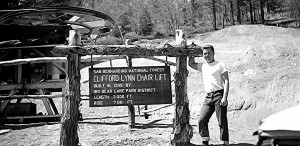 Big Bear Valley, CA, November 29, 2014 – In 1925, Walter Kruckman ran a bus line which serviced the San Bernardino Mountains. The Motor Transit Company had a franchise to the mountains which required them to operate a year-round bus service, even though they traveled empty in the winter months. Kruckman came up with the idea of developing public interest in snow sports to fill his empty buses during the winter season. He helped form the Southern California Winter Sports League and took the position of publicity director. Kruckman promoted winter sports with 15 minute radio spots detailing road and snow conditions, and attracted Norway's ski champion, Sven Hansen, to donate his time as Big Bear's first ski instructor.
In the early 30s, the Viking Ski Club of Los Angeles provided instruction and began holding competitive, winter sports events in Big Bear. Downhill skiing was gaining in popularity and the historic Lynn Sling Lift opened in Big Bear in 1938 at the Snow Forest Ski Resort. After World War II, owner Clifford Lynn built a 3000 foot single chair lift. During the 40s and early 50s several small rope tows were constructed, including an Upper and Lower Moonridge Rope Tow, located where the base of Bear Mountain Ski Area is today.
In 1947, Tommy Tyndall arrived in Big Bear and started ski schools at several of the ski areas. He founded the Big Bear Winter Club and held the first Snow Carnival in 1949. In 1952, with financial assistance from friends and local investors, Tommy created the Snow Summit Ski Corporation and built a mile-long double chairlift which reached the top of the mountain. This was the largest ski development in the San Bernardino Mountains, and Snow Summit became Southern California's premier ski resort.
In the 50s, several of the smaller ski areas, including the Upper Moonridge rope tow and the Rebel Ridge Ski Area in Big Bear City, experimented and had some success with snow making. By early 1964, Tommy Tyndall had completed installation of the first large snow making system in Southern California. Tragically, Tommy was killed in a tractor accident while working on one of the slopes. The management fell to Tommy's wife Jo Tyndall, who was assisted by her son, Richard Kun.
In 1969, several former Snow Summit ski instructors, including Fred Goldsmith and Bill Strickland, purchased the Moonridge area, installed a mile-long chair lift, and changed the name to Goldmine which became Bear Mountain in 1988. In 2002, Bear Mountain was sold to Snow Summit Ski Corporation, who controlled both resorts until their sale to Mammoth Mountain, which was approved by shareholders in early November 2014, marking a bright future for winter sports here in the Big Bear Valley