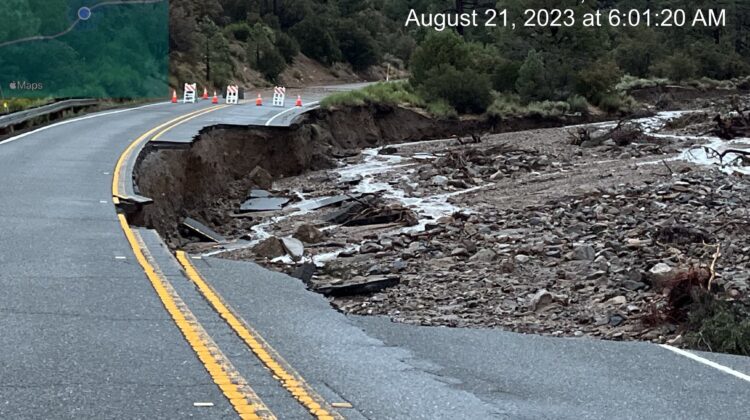 Photo provided by CalTrans District 8
Big Bear News – Big Bear Lake – Big Bear is now dealing with the aftermath of Tropical Storm Hilary that passed through the Big Bear Valley on Sunday.  Meteorologist Ben Brissey states that Tropical Storm Hilary, now as a remnant low, moisture will gradually decrease with scattered showers and thunderstorms lingering today.  It is estimated that total rainfall from the storm in the east end of the Valley was between 5 to 7 inches with upwards of 8 to 10 inches in the Onyx Summit area on Highway 38.  Most other locations received 3 to 5 inches of rainfall.
Highway 38 is closed in both directions from Lake Williams to Bryant in Mentone until further notice. CalTrans states that a section of the highway has washed out in the location just west of Wild Horse Meadows Road between Onyx Peak and Heartbar Campground.
CalTrans has suspended scheduled roadwork on Highway 18, Arctic Circle, for today. If traveling that route, please use caution as debris and rocks are on the roadways throughout the Valley. We advise travel only as needed.
Bear Valley Unified School District students do not have school today as a safety precaution for students and staff. School district maintenance crews will access school sites today for any damage in preparation for classes to be in session tomorrow.