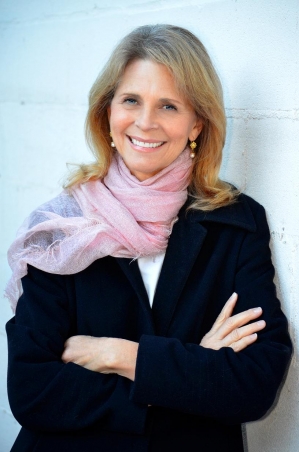 Big Bear City, CA, August 1, 2013 – Big Bear Yoga is bringing the first yoga festival to the valley this month, and Lindsay Wagner will deliver the keynote address.  Aside from being an award-winning actress, Wagner is an energy medicine advocate and the co-author of two books: The High Road to Health, a best-selling vegetarian lifestyle cookbook, and Lindsay Wagner's New Beauty: The Acupressure Facelift.
Wagner first rose to prominence with her Emmy award-winning role as the Bionic Woman, then went on to grace over 40 TV movies, five mini-series and 12 feature films. Throughout her career, she has remained committed to the advancement of human potential, choosing roles based on the effect they will have on the audience. Notable productions include "Shattered Dreams" (1990), a domestic violence story which she co-produced; "A Child's Cry" (1985) about child abuse; "The Taking of Flight 847" (1988) on the root complexities of terrorism; "Fighting For My Daughter" (1995) on teen prostitution; and "Four Extraordinary Women" (2006) on breast cancer.
She has extended that commitment to her off-screen life as well, using her public platform to highlight issues close to her heart. She has been the honorary Chair of the Inter-Agency Council on Child Abuse and Neglect (ICAN) for over twenty five years, and is active in the causes of animal welfare, domestic violence and the environment. From 2003-2006, she co-facilitated with the LA County Sheriff's Department a support group for convicted batterers and their families, teaching more constructive and peaceful ways of relating to each other and oneself to help end the cycle of family violence.
More recently, Wagner has released a meditation CD and used her study of holistic healing to develop 'Quiet the Mind & Open the Heart' workshops and retreats, which she has presented in Canada, Mexico, Europe and across the U.S., including the  prestigious Omega Institute in New York. The workshops are designed to help overcome personal challenges, while using practices that integrate mind, body and soul. She has also tailored programs for caregivers, those recovering from addictions, people living with HIV, and mental health practitioners from the UK National Health Service.
Wagner has delivered keynote address for such organizations as the Woman Arising Conference in Sedona, AZ, Akasha Metaphysical Film Festival in Carmel, CA, Mile Hi Church in Lakewood, CO and the Mind, Body, Spirit Expo in Voorhees, NJ. Given her popularity, the producers of the Big Bear Yoga Festival are excited about her local keynote address, scheduled for August 24 at 10:30 a.m. at YMCA Camp Oakes (47400 Monte Vista Drive, off Hwy. 38).
The entire festival will take place at Camp Oakes from August 23 to August 25. Attendees can choose from health & wellness lectures, a wide range of yoga classes, food, live music and guided meditation — along with outdoor recreation like a climbing wall, a ropes course, canoeing, an observatory and a swimming pool. The full slate of events and ticket information is online.