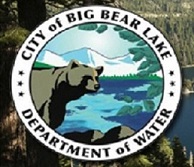 Big Bear, CA, July 27, 2015 – The spreadsheets are complete, the meters read, the data is entered and the results are in. The Bear Valley Unified School District  has won Round One for the Big Bear Lake Department of Water's Biggest Loser competition.
In May Reggie Lamson, the DWP General Manager, and Sierra Orr, Water Conservation and Public Information Specialist met with key staff from each agency: the City of Big Bear Lake, the Big Bear Parks and Recreation District and the Bear Valley Unified School District to discuss ways the "Big Three" could help the community meet or beat the 16% conservation goal. To determine who shed the most water use DWP compared their total consumption for the month of June, across all facilities, and compared it to their total consumption in June of 2013 (the baseline year for California's mandated water use reduction).
BVUSD has slashed their water use by more than half, reducing their monthly use from 2.59 million gallons down to 1.22 million gallons. From their small office next to a garage on Knickerbocker, Terry Planz, the school district's Facilities and Operations Manager, along with his secretary and right hand, Syd Callaway, manage 316,000 square feet of buildings and over 100 acres of land across seven sites with only six staff members.
"We do everything we can to save," said Planz. " We face a lot of challenges, funding for schools is always tight and with students here most of the year we have a six week window in which to complete projects over the summer. Our crew does a great job and we are proud of what we've been able to accomplish. Hopefully we can keep the City and Parks at bay and win the rest of the summer," he continued. In early summer the school district began a project at Baldwin Lane Elementary that will remove nearly 14,000 square feet of turf.
The Parks and Recreation District cut its water use by 35.09% and are in the process of eliminating over 5,000 square feet of turf. The City of Big Bear Lake was able to reduce their water use by 15.26% partially by eliminating weekend and Wednesday watering. The competition will continue through the summer with five rounds ending in October.