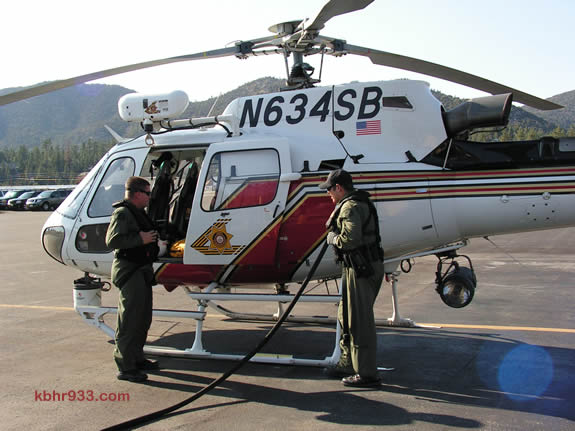 Helicopter and police activity over Big Bear Lake at this time is due to rescue efforts to locate an individual who had fallen off a rented pontoon boat this afternoon. The Municipal Water District received the call at 3:22pm that a person had fallen off the boat, in about 27 feet of water just south of the Big Bear Shores RV Park on the North Shore. Per MWD's General Manager Scott Heule, Lake Patrol responded immediately and, shortly thereafter,  San Bernardino County Sheriff's helicopters and rescue diving teams were assisting in the rescue on Big Bear Lake. At this time [4:20pm], the individual has not yet been retrieved. Crews on scene include personnel from the MWD, the San Bernardino County Sheriff's Department, County Fire's Fawnskin station #49 and the Big Bear City Fire Department. There have not been any fatalities on Big Bear Lake since April 20, 2007.
Update: As of the 6 o'clock hour, Lake Patrol is maintaining a perimeter around the incident site, just east of the observatory on the north shore of Big Bear Lake. As visibility in the water is only to a depth of about 3 1/2 feet, per Heule, Sheriff's crews will likely implement sonar capabilities to try to detect the missing (and as yet unnamed) individual. If going boating (or reading this from your boat) on Big Bear Lake, please allow room for emergency personnel–and, if you need to traverse the lake, MWD asks that you do so along the south shore.
Additional updates in stories posted July 5 and July 9.