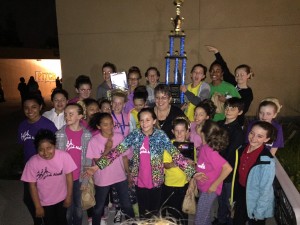 Big Bear, CA, March 12, 2015 – Altitude Adrenaline, formerly the Aquila Ensemble, is an after school competition show choir sponsored by Bear Valley Unified School District. It is open to girls grades four through eight from the three elementary schools and Big Bear Middle School.
On Friday, March 6, Altitude Adrenaline swept the Cypress Star Reflections show choir competition. They placed first in the Novice Middle School division and won both the Outstanding Musicianship and Outstanding Showmanship awards, receiving the highest scores among three other middle school and thirteen high school show choirs. Middle school student Addyson Contreras received an award as Outstanding Performer.
Their competition program for this year is entitled "Girl Power", and along with songs like "Girls Just Wanna Have Fun" and "We Are Family", features an original number written by choir director Robin O'Hare as well as a dance duet choreographed by Cathy Winch to "Let It Go".
This is the group's fourth first place win in their past five competitions.