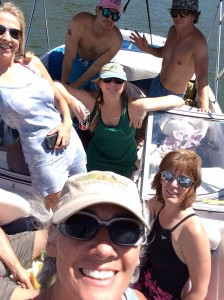 Big Bear, CA, Sept. 4, 2014 – As the unofficial end of the summer season, Labor Day Weekend and all the visitors it brings to the valley is something local businesses in Big Bear look forward to every year. Judging by the never ending line of traffic heading west from Big Bear City towards Big Bear Lake and the checkout lines at the grocery store, there were a lot of people enjoying what our valley has to offer.
According to the MWD, many of those visitors were out on the lake. On Saturday afternoon there were 545 boats on the water and on Sunday there were 352. This is double the number of boats out on a typical Saturday or Sunday. There were also 571 boat launches from the two public ramps. These numbers are similar to 2013, however last year Sunday was the busy day.
From an informal survey of several restaurants both in Big Bear Lake and Big Bear City, most said it was their busiest weekend of the summer. Also, the private home rental businesses reported over 95% capacity.