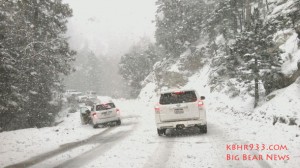 Big Bear, CA, December 20th, 2015 – Winter weather conditions in the City of Big Bear Lake can be beautiful, but they can also be hazardous.
Forecasters predict a volatile El Nino weather scenario as we enter 2016, but there are a few simple things you can do to be prepared;
Check weather and road conditions in advance and download a mobile weather app to your cell phone.
Don't forget your phone charger and roadside assistance membership card.
Check your vehicle windshield wipers, brakes and working lights.
But, just in case you get stuck, make sure you have an emergency kit. Your supplies should include road flares, emergency triangles, a working flashlight, jumper cables, a first aid kit, extra clothes or blankets, chains or a tow cable, salt, sand or kitty litter, snacks and water.  It sounds like a lot to pack, but any one of these items could be the difference between getting stuck and getting home.
But most importantly; If you're in the snow, just drive slow!