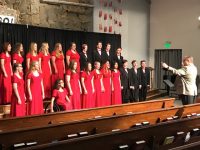 Big Bear, CA – Congratulations to the Big Bear High School Concert Choir for winning a second place finish and a rating of Excellent in the Music in the Parks Festival on Saturday, May 19th at the Disney Resort. On top of that, the choir received the coveted "Esprit de Corps" award. That honor is awarded to the performing ensemble that showed the highest level of attitude, kindness, and professionalism. Out of 19 ensembles, Big Bear High School's Concert Choir was chosen as the group that showed the true spirit of the Festival with that award.
The Music in the Parks Festival Organization is one of the largest adjudicated music
festivals in the United States. The Festival provides a year-end assessment by an outside
panel of judges and reinforces music skills that ensembles learn throughout the school
year. The host for this weekend's festival, David Hahn, said of the Concert Choir, "You have
an amazing program to say the least. Although I don't really choose who gets the [Esprit
de Corps] award, I was so happy it was your students. So professional, poised, and
talented."
The Big Bear High School Concert Choir is: Katie Daggs, Ely Dawson, Skyler Duff-Fraker, Andi Jackson, Maggie Kubeja, Trinity Lowe, Larke Madsen, Hannah Magers, Isaiah Manos, Lainey Mayer, Kelly Mount, Greyson Payne, Naomi Payne, Elizabeth Perez, Morgan Schetter, Nik Swinson, Jazmin Thompson, Jacob Walker, Star Walker, Avi White, and Alex Williams. The choir is directed by Brian Adams.