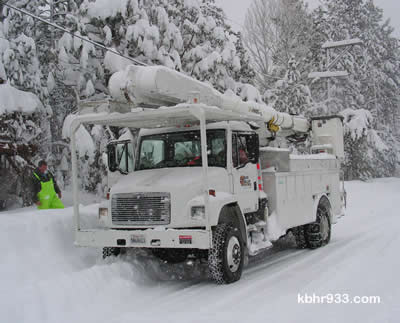 Big Bear Valley, CA — The lights went out in the Big Bear Valley, just before 2pm on Thursday, January 21. Affected areas include the South Shore communities, east of the Village of Big Bear Lake and including Moonridge, Sugarloaf and Erwin Lake (as well as the studios of KBHR in Big Bear City), according to Bear Valley Electric. Those on the North Shore, Fawnskin and Boulder Bay should still have power. According to Bear Valley Electric's Operations Supervisor John Dykesten, one of the transmission circuits is blocked out, and probably due to a tree limb coming down. BVES crews (whom, you'll recall, worked nearly 24 hours straight in Baldwin Lake earlier this week) will not be able to repair today's problem until they find the source, a situation they are working on at this time.
There have been several reports of downed trees during today's storm; unconfirmed reports include downed trees on the Deadman's Curve portion of Big Bear Boulevard in Big Bear City, in a residential backyard in the Whispering Forest area, in a residential area on Country Club and Hillendale, and on Fox Farm Road near Olympic, resulting in damage to a car and deck.
Update: Power restored at about 3:15pm! Per Dykesten, the tree limb was quickly located, thanks to a report from a BVES customer, who'd seen a flash in her neighborhood, off Big Bear Boulevard near Teal in Big Bear City. "So," Dykesten tells KBHR, "we focused on that, and it was indeed the case." More power outages may occur during this storm period, as when snow accumulation is great it weighs down trees, limbs break off and land on power lines; so Dykesten says, yes, it is very possible it could happen again.
Update as of Friday, January 22: Bear Valley Electric crews are overwhelmed with the number of isolated electric problems throughout the Big Bear Valley, and have all available personnel working 'round the clock. Neighborhoods with downed power poles and lines could be without electricity for up to 24 hours. Customers may call BVES at 909/866-4678 to let them know if you are without power.
Update as of Saturday afternoon, January 23: Bear Valley Electric's Operations Manager Ken Markling tells KBHR that though crews continue powering through a number of storm-prompted outages, "There's trouble everywhere." As of this afternoon, the following communities are still without power: Fawnskin, Boulder Bay, Eagle Point and lower Moonridge. "We're still in a state of emergency in this community," he adds; indeed, the County of San Bernardino was added to the state's emergency status list this week. Bear Valley Electric has requested the mutual aid assistance of Southern California Edison, though, even if they have crews available to assist Big Bear, there is still the road access issue.