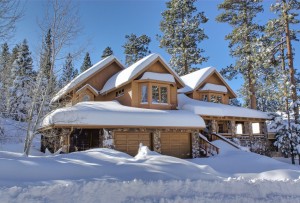 Big Bear, CA, Sept. 27, 2014 – According to the National Weather Service, the warmest month in Big Bear is July, with a daily average temperature of 65 degrees. The coolest month is January, with a daily average temperature of 34 degrees. There are an average of 2 days each year with highs over 90 degrees with the highest temperature ever recorded being 94 degrees on July 15, 1998, while the lowest ever recorded was -25 degrees on January 29, 1979. Freezing temperatures have occurred in every month, on an average of 186 days each year.
Due to the elevation of the weather station, precipitation is greater than in the San Bernardino lowlands, averaging just over 21 inches of rain per year. The maximum 24 hour rainfall was 9.5 inches on December 6, 1966. Measurable rainfall normally occurs 45 days per year with mountain thunderstorms occasionally producing heavy rainfall, even in midsummer. Big Bear's climate is considered 'Warm-summer Mediterranean'.
The Big Bear Valley normally receives significant winter snow because of it high elevation. Snowfall, at lake level, averages 72 inches per season with upwards of 100 inches accumulating on the ridges above 8000 feet. The most snow in 24 hours was 27 inches on March 27, 1991 with the greatest depth of snow being 58 inches on February 3, 1979. There are normally 18 days per year with measurable snow and snow has fallen in every month except July and August.