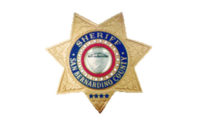 Sugarloaf, CA – On Saturday, January 20, at approximately 10:20 pm, the Big Bear Sheriff's Station received a report of a sighting of wanted felon Brandon Kegley. Kegley had an active warrant issued against him by the United States Marshal's Office for violation of federal probation terms and conditions stemming from a prior conviction of being a felon in possession of a weapon. Prior to the arrival of responding deputies, Kegley left the scene.
Deputies saturated the area and recognized Kegley as a passenger in a vehicle driving through the area of Erwin Lake. During a traffic stop, Kegley fled on foot into the surrounding residential neighborhood. An extensive search was conducted on the ground and with aerial assistance from the Sheriff's Aviation Division. After tracking the area in light snow and mud, deputies found Kegley hiding under a deck at a residence approximately one mile from the traffic stop.
Concurrent with the search for Kegley, deputies contacted the driver of the vehicle who was identified as 36 year old Holly Martineau of Big Bear City. Both suspects were found to be in possession of heroin, as well as packaging and paraphernalia consistent with sales of illegal narcotics. Kegley and Martineau were taken into custody without further incident and booked into the Big Bear Jail on felony charges of possession of narcotics for sale and bringing a controlled substance into a jail facility. They remain in custody at West Valley Detention Center, pending a court hearing scheduled for January 31 in San Bernardino County Superior Court.
Upon adjudication of the case in San Bernardino County Superior Court, Kegley will be surrendered into the custody of the United States Marshal's Service.