Big Bear, CA – Get ready to be freezin' for a reason and show how brave you are while raising funds for Special Olympics. This year's plunge promises to be extra exciting with the prospect of fresh snow in the forecast. Participate in Special Olympics Southern California's annual Big Bear Polar Plunge benefiting Inland Empire athletes on Saturday, March 3, at Veteran's Park on the shores of Big Bear Lake.
The Polar Plunge is a unique opportunity for individuals, organizations, and anyone to support Special Olympics Athletes by running, walking, or dancing into the chilly waters of Big Bear Lake. Each Plunger will receive a shirt, a BBQ lunch, and two-for-one ski passes with a minimum of $50 raised. Additional incentives are available for those who raise more. If you're "Too Chicken to Plunge" you can register as a chicken, raise $50, but stay DRY in the 'Chicken Coop' while your friends go take the plunge. People are encouraged to create their favorite costume whether they come alone or plunge with friends.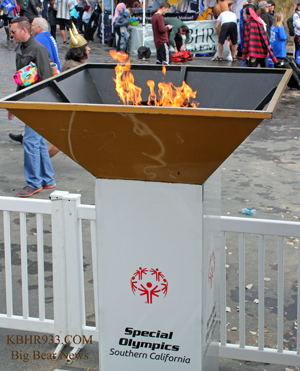 "Taking the Plunge is a unique way for individuals, groups, and corporations to support our athletes," said Bill Shumard, President & CEO of Special Olympics Southern California. "Our ocean and lakes have frigid winter waters so brave souls can cross this off their bucket list and raise money for Special Olympics at the same time."
You can register online at SOSC.org/BigBearPlunge or you can register on site Saturday morning at 10:00 am. The Big Bear Plunge takes place at Veteran's Park in Big Bear Lake. Opening ceremonies for the Plunge begin at 11:45 a.m. There is also a Family Fun Area, open from 10 am to 2 pm, which includes law enforcement and fire department displays, a rock wall (dependent on weather), a silent auction and raffle, and much more.
There will be a Polar Plunge Pre-Party at The Cave in Big Bear Lake on Friday, March 2nd from 6 to 10 pm featuring The Aviators. For those taking the plunge on March 3, the concert is
FREE! Tickets are $5 for anyone not plunging and all ages are welcome.