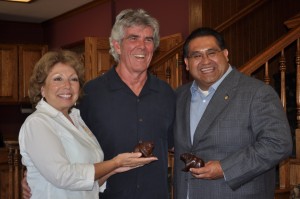 Big Bear Valley, CA, June 10, 2014 – Supervisors James Ramos and Josie Gonzales will be in Big Bear today to present two personal checks to the Lighthouse Project for garnering the highest number of individual donors in the Give BIG San Bernardino County campaign.
Supervisor Ramos personally pledged $1500 to the third district nonprofit which received the highest number of unique donors. Supervisor Gonzales pledged $1 for every 'like' she received on Facebook before the end of the campaign, also to the nonprofit with the most donors. She received 505 'likes', but has increased her donation to $1000.
The Lighthouse Project will receive the checks, for an additional $2500, at a presentation today at the office of Coldwell Banker Real estate.