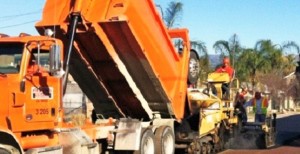 Big Bear, CA, Sept. 2, 2015 – The California Department of Transportation District 8 has awarded a $4.1 million project to Matich Corporation that will pave three major segments of State Route 18 between Talmadge Road (at Red Ant Hill) to the SR-138 junction in Crestline, CA.
The segments are: Talmadge Road in the City of Big Bear Lake to SR-38 (at the Big Bear Dam); from just east of Lake View Point to just east of Snow Valley Resort; and from the SR-330 junction in Running Springs to the SR-138 junction in Crestline.
The project will grind the road surface, overlay with hot asphalt mix and stripe the newly completed segments. Work is scheduled to begin September 9 and continue for eighteen weeks. There will be no work over the Labor Day holiday weekend. Work hours are 9:00 a.m. to 5:00 p.m., Monday through Friday. One-way traffic control will be in effect, expect delays or use an alternate route.
Matich Corporation, who did the paving for the Village Revitalization Project, will pave as much as possible each day as they progress through the three segments. Advisory signs will be posted stating that the project is approaching. Access to SR-18 will be restricted until the hot asphalt has cooled sufficiently. Make parking arrangements outside of the construction zone if the project is in your area.
Caltrans thanks you, in advance, for your patience and cooperation as they provide mountain residents and visitors with a brand new road surface.