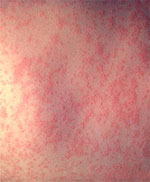 Big Bear, CA, February 4, 2015 – The County of San Bernardino Department of Public Health has confirmed six cases of measles within the County as of February 2, 2015. These cases are either initial exposures or linked as secondary cases in conjunction with the recent outbreak associated with Disneyland. It is possible that County residents may have have been exposed to measles since one of the confirmed cases visited public places while infectious.
Potential exposure locations are Inland Center Auto Body in San Bernardino anytime Thursday, January 22 through Saturday, January 24; the Elgin and Fagan Bar, also in San Bernardino, on the evenings of the 22nd and the 24th; or the Game Stop in Colton, on the evening of Saturday, January 24.
Measles is a highly contagious and potentially severe disease that causes fever, rash, cough, and red, watery eyes. Measles spreads very easily by air and by direct contact with an infected person. People who were at any of those locations during the times indicated should monitor themselves for illness with fever and/or an unexplained rash. If symptoms develop, stay at home and contact a health care provider immediately.