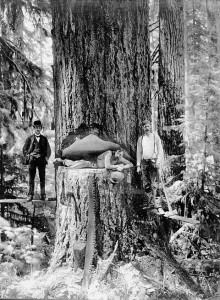 San Bernardino Mountains, CA, July 26, 2014 – Although Big Bear and the surrounding San Bernardino mountain communities are best known for recreation, outdoor locations for Hollywood productions, and the gold rush of the late 1800s, it was logging that was the big industry in the early 1900s.
Logging in the San Bernardino Mountains was once done on a very large scale. The largest operation was conducted by the Brookings Lumber Company. They logged 8,000 acres between Fredalba and Hunsaker Flats, which is  present day Running Springs, and extended northward to Heap's Ranch and Lightningdale which is near Green Valley Lake. They operated continuously between 1899 and 1912 and even built a railroad to bring logs to the mill at Fredalba. Since the railroad operated in the high country and didn't connect to other rail lines in the lowlands, the locomotives had to be disassembled and hauled by horse drawn wagons up the mountain.
About 60% of the finished lumber was hauled by wagon down the steep grades to the Molino box factory in Highland, which made packing crates for the citrus grown in the area. The remaining 40% went to the company's retail lumber yard in San Bernardino. In 1912, the company dismantled the Fredalba sawmill and moved it to Oregon.