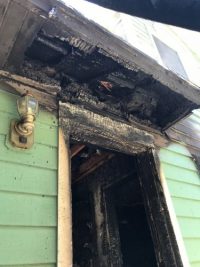 Big Bear, CA – A residential structure fire was reported for Pinewood Drive at Sky View Drive in Lake William at approximately 12:26 p.m. yesterday, Tuesday, May 15. Upon arrival, fire crews observed the approximately 2,500 square foot, multi-story, single family residence, with smoke and flames visible to the rear of the home. Crews were able to knock-down the fire in 40 minutes. Firefighters had easy access to the home from the rear of the house. The fire was contained to the kitchen and laundry room with extensive smoke damage throughout the house.
Big Bear Fire Department responded with three engines and three ambulances. Assistant Chief Mike Maltby was on-scene and in command of the response. CAL FIRE assisted with one of their engines.
There was no one home at the time of the fire; however, two pets were lost in the incident. The origin of the fire was the dryer in the laundry room.