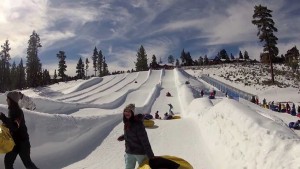 Big Bear, CA, January 6, 2016 – Big Bear Valley offers many free snow play areas for snowshoeing, cross-country skiing, and sledding.  Don't let your winter fun be ruined – KNOW BEFORE YOU GO!  Free areas for snow play are available on open forest service land and trails only.  Snow play on private property (including vacant lots) is prohibited.  Violators are subject to citation or arrest for trespassing.  Make sure to park your vehicle in an authorized location so you don't return from your day of fun to find a parking ticket or that your vehicle has been towed.
Here are some safety tips for sledding in unmaintained areas:
* Select a hill that is not too steep and has a long flat area at the bottom for you to glide to a stop.
* Avoid hillsides that end near a street or parking lot.
* Avoid hillsides that end near trees, boulders, fences or other hazards.
* Make sure the hill is free of obstacles such as rocks, trees, fallen branches, or trash/other debris.
* Choose hills that are snowy, rather than icy.  An icy slope makes for a hard landing if you fall off your sled.
* Sled during the daytime, when potential hazards are visible.
Pay-to-Play tubing on maintained runs is also available at Alpine Slide at Magic Mountain and Big Bear Snow Play.
DO NOT walk or play on the lake ice under any circumstances!  While the frozen lake may look inviting, it is extremely dangerous!!  Hypothermia and drowning are substantial risks.  Being on the lake ice, even close to the shoreline, is a violation of San Bernardino County Codes and Municipal Water District Ordinances.
Winter weather in the mountains can change dramatically in a very short period of time.  Make sure you are prepared with proper clothing, extra food and water, and a full charge on your cell phone battery.  If you take medication, have an extra supply on hand.  Carry extra supplies for your four-legged friends if they are traveling with you.  And always carry chains in your vehicle and know how to put them on.
With these tips in mind, you are sure to have a fun and safe experience in our winter wonderland!