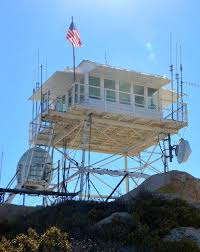 Big Bear, CA – On Saturday, October 21st, the Southern California Mountains Foundation and San Bernardino National Forest held a dedication ceremony to celebrate 90 years of service for the Keller Peak Fire Lookout Tower. The Fire Lookout is located on the top of Keller Peak Road in Running Springs, CA and is managed by volunteers as one of the six volunteer programs of the Southern California Mountains Foundation. The Keller Peak Fire Lookout and its dedicated cadre of volunteers help protect the forest, local mountain communities, and forest bordering communities from the threat of wildfire. Dedicated tower volunteers act as smoke spotters and alert the Forest Service to suspicious fire activities. Lookout Volunteers also act as hosts to a multitude of curious visitors.
In the past year, 274 Fire Lookout Volunteers put in over 22,000 hours of service and reported 51 smoke reports (including 5 first reports), 114 smoke checks, 396 lightning strikes, and hosted over 60,000 visitors.  Volunteers also recently gave the Keller Peak Tower a makeover by removing paneling installed in the 1970's to reveal its original tongue and groove siding and replaced flooring and cracked windows.
"We are excited to see the tower restored to its former glory and hope to keep it in working condition for another 90 years," says Pam Morey, the Fire Lookout Program Coordinator with the Southern California Mountains Foundation.
For more information on fire lookout towers in the San Bernardino Mountains visit  Fire Lookouts or contact the Fire Lookout Host Program Coordinator, Pam Morey at (909) 225-1025 or by e-mail at pammorey@fs.fed.us to get involved with the program.