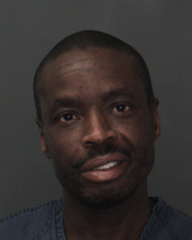 Big Bear City, CA June 27, 2015 At approximately 5:00 p.m. on Saturday, June 27, deputies of the San Bernardino County Sheriff's Department assigned to the Lake Fire for perimeter patrol and security of evacuated areas observed a white Crown Victoria driving into affected areas that were closed by road blocks. The vehicle was driven by a male subject who was wearing an authorized fire department uniform and represented himself as a firefighter. When the subject stopped at a checkpoint, he claimed he was trying to locate a fire crew and then left the area.
Approximately 15 minutes later the vehicle was located at the Incident Command Post in the parking lot at Big Bear High School. Deputies made contact with the subject in the vehicle, and identified him as 44-year-old David Battle. At the time of contact, Battle could not provide proper fire department identification. Upon further inspection, deputies noticed that the tires on the vehicle were bald. A records check revealed that the California exempt license plates on the vehicle had been stolen. Deputies ran the vehicle VIN, and determined that the vehicle had been stolen from the City of San Bernardino approximately two weeks earlier. Inside the vehicle, deputies located several articles of fire equipment, including uniforms from various fire agencies and a fire radio stolen from the Lake Fire incident. A stolen handgun was also found in the vehicle. Battle was found to be on felony probation for a previous charge of grand theft auto.
David Battle was taken into custody without incident and booked into the Big Bear Jail on felony charges of possession of a stolen vehicle, being a felon in possession of a firearm, and carrying a stolen loaded firearm. Battle remains in custody at West Valley Detention Center in lieu of $50,000 bail, with an arraignment hearing set for this afternoon in San Bernardino County Superior Court.
Anyone recognizing David Battle or his vehicle, and has had contact with him where he represented himself as an official member of a fire department or law enforcement agency is requested to contact Detective Jim Wijnhamer at (909) 866-0100, Detective Lance Stuart at (909) 890-4840, or Cal Fire Captain Jack Markle at (909) 881-6922. Information can also be reported anonymously by calling WE-TIP at (800) 78-CRIME or online at www.wetip.com.