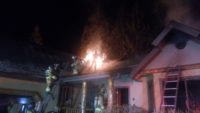 Big Bear Lake, CA – On Sunday, January 21st, at approximately 9:32 pm, a residential structure fire was reported at Meadow View Drive and Marina Point Lane in Big Bear Lake. Upon arrival, fire crews observed the approximately 1,500 square foot, single-story, single family residence, well-involved with flames visible on the Northwest side of the home. Due to extensive fire damage in the roof area that caused a partial collapse of the roof, firefighters were prevented from gaining immediate access to the home, taking approximately 45 minutes to suppress the fire.
Big Bear Fire Department responded to the fire with three engines, two ambulances and 13 crew
members. CAL FIRE assisted in combating the significant blaze. CAL FIRE also provided coverage for other incidents throughout the area while Big Bear Fire Department resources were committed to this incident.
The home was occupied by the owner who self-evacuated. No injuries were reported, though the
home suffered significant damage. The origin of the fire was in the chimney chase, however, the
cause of the fire is still under investigation by Big Bear Fire Department.