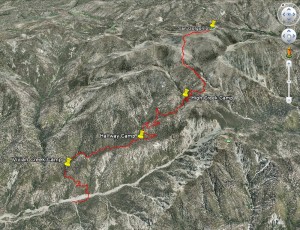 San Bernardino County, CA, December 16, 2015 – The holidays will be much happier for the families of two hikers and their dog who were rescued Sunday after spending the night in below zero temperatures in the San Gorgonio Wilderness. The San Bernardino County Sheriff-Coroner's Department says 21 year old Tiffany Finne of Costa Mesa and 29 year old Kenny Pasten, attempted to hike along the Vivian Creek Trail, from Forrest Falls to the summit of Mount San Gorgonio. They were unable to make it to the summit and although they did not have the proper clothing or shelter, they decided to stay the night on the mountain. In the early evening a weather system moved in, temperatures dropped below zero, and the area received several inches of snow.  On Monday, December 14th, at approximately 8:06 a.m., Kenny Pasten called 911 on his cellphone requesting help, but the call was dropped and the latitude/longitude captured by 911 was incorrect. There was also intermittent cloud cover near the summit, which initially prevented San Bernardino County Sheriff's Aviation personnel from searching for the victims.
At approximately 10:10 a.m.,  with limited information, a search  began by air and approximately 45 minutes later, Pasten was found on a ridgeline about a half mile west of the San Gorgonio Summit. He was suffering from moderate hypothermia and non-life threatening injuries.
Approximately 15 minutes later, the rescue team located Finne approximately 300 yards downhill from the aircraft. She was crawling on her hands and knees and was suffering from severe life-threatening hypothermia. Finne also had a German Shepherd with her. After helping Finne and her dog into the aircraft, the crew transported Finne and Pasten to Loma Linda University Medical Center for treatment.