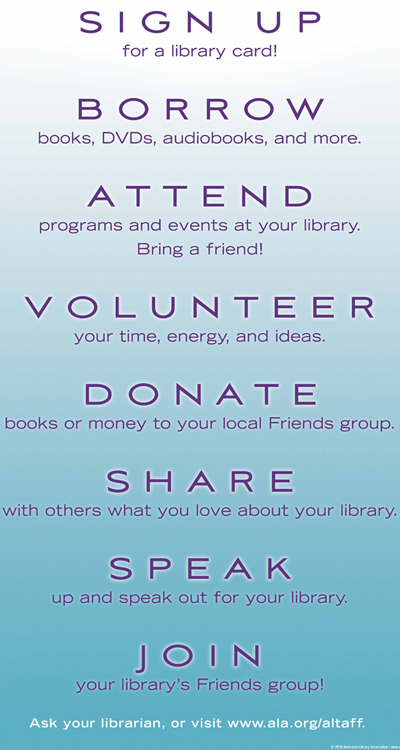 Big Bear Lake, CA, October 23, 2013 – The eighth annual National Friends of Libraries Week is underway (October 20-26), and with it comes a giant book sale at our local library.
Established in 1991, the Friends of the Big Bear Valley Library are now offering a huge selection of children's books, paperbacks, hardcovers, audio books, videos, DVDs and CDs — with all items priced at $2.00 or less.
The public has three days to take advantage of the Fall Book Sale:
Wednesday: 11:00 a.m. – 7:00 p.m.
Thursday: 10:00 a.m. – 6:00 p.m.
Saturday: 9:00 – 2:00 p.m.
Readers will get an extra bargain on Saturday: an entire bag of books for just $2.00.
The Big Bear Lake Branch Library is located at 41930 Garstin Drive, and can be reached by phone at (909) 866-5571.
"Whatever the cost of our libraries, the price is cheap compared to that of an ignorant nation." – Walter Cronkite