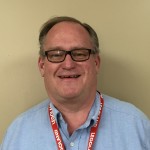 Big Bear Lake, CA, August 23, 2016 – The Board of Directors of Bear Valley Community Healthcare District is pleased to announce the appointment of Garth Hamblin as the permanent Chief Financial Officer effective immediately. Mr. Hamblin has served the District as the interim CFO for the past 11 months, and the Board voted unanimously to keep him with the district as the new permanent CFO.
Garth Hamblin was born and raised in southern Idaho where he attended Ricks College in Rexburg, and graduated with an Associate Degree. He continued his education at Brigham Young University in Provo, Utah, where he graduated with a degree in accounting.
Prior to joining the District, Mr. Hamblin has worked for over 30 years in healthcare finance. Most of Mr. Hamblin's years were spent in Alaska, however from August 2013 to June 2015, he and his wife, Sandy lived in the Kingdom of Tonga in the South Pacific.
When Mr. Hamblin is not working he enjoys fly-fishing, camping, reading, music and singing. He and his wife enjoy traveling, and he expressed that his favorite place that they have traveled to is Polynesia.
Mr. Hamblin stated "I am excited to be the permanent CFO! We still have some work to do, and I am excited to be a part of the District's future."