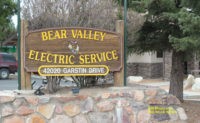 Big Bear Lake, CA – – Bear Valley Electric Service is hosting its Annual Earth Day Expo today, April 20, from 11 a.m. to 2 p.m. The free event will take place at BVES, which is at 42020 Garstin Drive in Big Bear Lake, and more than 20 local organizations will participate to provide education and resources focused on fire safety and conservation.
This year's Earth Day Expo marks the eighth hosted by BVES. The family-friendly event will feature power plant tours, demonstrations, educational materials, a photo contest, food and giveaways. Free LED lightbulbs and nightlights, which use 90 percent less energy than incandescent bulbs, will be distributed while supplies last.
"BVES takes great pride in hosting this Earth Day Expo each year," said BVES Director Paul
Marconi. "The event provides a great opportunity for our customers to meet the team of
dedicated professionals who work hard every day to power the community, and this year's focus
on fire prevention is especially important to help attendees prepare to keep their families and
neighborhoods safe from catastrophic wildfires that could devastate a mountainous community
like Big Bear."
For additional information on BVES' Annual Earth Day Expo, customers are encouraged to
visit www.BVES.com and follow BVES on Facebook.