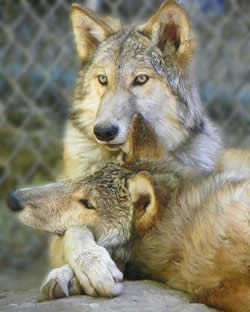 Big Bear Valley, CA — In addition to the regular, first-week-of-the-month meetings*, the Soroptimists' Man About Town festivities, and "The Odd Couple" at the PAC, there are a number of goings-on in the Big Bear Valley this week. On Tuesday, there are two public meetings, both of which begin at 6:30pm. "Tree People" will be featured at tomorrow's meeting of the Big Bear Valley Historical Society, given a presentation on the non-profit's tree planting project on the San Bernardino National Forest; the Historical Society meeting is open to the public and will be held at the Big Bear Discovery Center. (More info: Doug Walton at 633-8314)
Also at 6:30pm on April 6, Bear Valley Unified's Superintendent Dr. Nancy Wright will be the featured speaker of the Democratic Club of Big Bear Valley meeting. Dr. Wright will address recent school district budget cuts and a possible parcel tax to fund local education, and attendees will be able to participate in a Q&A following the presentation. The Democratic Club meets at the offices of the Municipal Water District, located at 40524 Lakeview Drive. (More info: Golen Olson at 648-5745)
On Thursday, the Big Bear Diabetes Support Network hosts a free, 5:30pm lecture at the Big Bear Chamber offices on Bartlett Road in the Village. Certified Diabetes Educator Therese Sweet will focus on basics, including diet challenges, in a presentation that will be followed by a Q&A. (More info: Therese at 222-5392)
The Spring Book Sale presented by Friends of the Big Bear Library returns this week and, following a members-only preview on Wednesday evening, the book sale is open to the public on Thursday and Friday, from 10am to 6pm, and Saturday, starting at 9am. Prices start at 25¢, and bargains include CDs and DVDs. The book sale takes place at the Big Bear Library at 41930 Garstin Drive in Big Bear Lake. (More info: 866-5571)
This Friday, April 9, it's a wolf pup birthday party at the zoo! The Moonridge Animal Park's nine wolf pups celebrate their first birthday on the ninth, with a party from 11am to 2pm. For more info on Friday's festivities in celebration of the wolf pups, call 878-4200.
*This week's meetings include CSD on Monday, the Big Bear Airport District and Big Bear Lake Planning Commission on Wednesday, and the Sugarloaf Roads Commission on Saturday (10am on the 10th at the Sugarloaf Fire Station). The MWD held their first-week meeting on April 1.