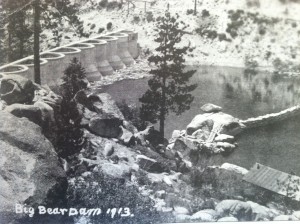 Big Bear Lake, CA, February 15, 2014 – Frank Brown and Hiram Barton rode into Big Bear Valley on horseback in May of 1883. They quickly concluded that if they built a dam at the narrow west end of the valley, they would create a lake five and a half miles long that could supply much needed water to thirsty communities down the hill.
For economic reasons, they decided on a stone arch dam 52 feet high, built of hand cut granite blocks weighing as much as 5 tons each. The dam was finished in 1884 at a cost of $75,000., creating the largest man made lake in the world at the time.
In 1910, due to the growing citrus industry in the valleys below, it was decided a new, larger dam was needed to increase the capacity of the lake. An unusual, multiple-arch design was built by John Eastwood about 300 feet further downstream. Cement and supplies were hauled up the mountain from Victorville by teams of horses. It was finished in 1912, costing $138,000. The new design did not inspire public confidence. However, it proved it's strength when it withstood a large earthquake in 1921 without a crack.
The new dam, which was 20 feet higher than the old 1884 dam, increased the the size of the lake from 1800 acres to 2500 acres and tripled the capacity, giving us the beautiful lake we have today.