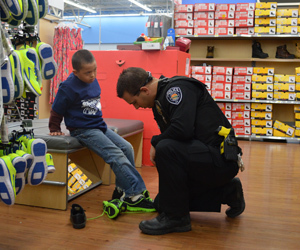 San Bernardino County, CA, Dec. 8, 2015 – During the month of December, Law Enforcement volunteers from all over San Bernardino County will chaperone hundreds of children on an unforgettable holiday shopping spree through the 15th annual SEBA 'Shop With A Cop' program.
This program focuses it's attention mostly on children over the age of 12 who have different needs than their younger counterparts. Most of the donations to other programs at this time of year are toys for younger children which is why 'Shop With A Cop' was created. Every child who participates will be taken on a $200.00 shopping spree. Each child is allowed to spend half on personal items or gifts for family. The remainder must be spent on clothing and shoes. This years goal is to take 600 kids shopping.
To find out how to contribute to this worthy program or how to sign up your child, please visit seba.biz.